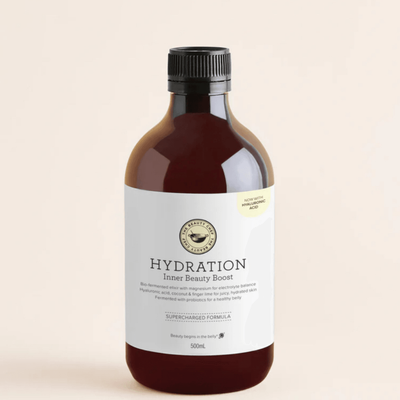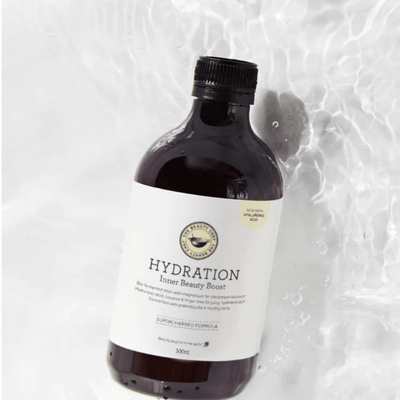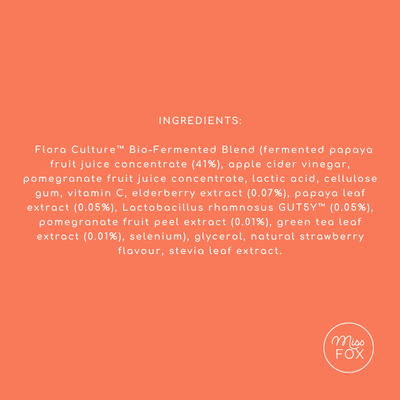 Hydration Inner Beauty Boost
The Beauty Chef
$55.00
or 4 interest free payments of $13.75 with
learn more
Replenish. Restore. Hydrate.
Containing fermented hyaluronic acid for juicy, hydrated skin, this bio-fermented probiotic elixir replenishes thirsty lacklustre skin from within and nourishes your gut. With magnesium for electrolyte balance, as well as bio-fermented coconut and cucumber water, finger lime and trace minerals.
BENEFITS
When consumed as directed with water, this naturally coconut-flavoured concentrate restores your body's hydration levels—helping to moisturise the skin from within to maintain its texture and appearance, protect its natural barrier and aid digestion. The addition of fermented hyaluronic acid further helps to hydrate skin from the inside out—for a more radiant, dewy complexion.Our unique fermentation process, Flora Culture™, further boosts this formula by helping to break down our wholefood ingredients, increasing their potency, improving the bioavailability of their nutrients and delivering even greater results. It also creates a natural, broad-spectrum probiotic with postbiotic compounds.
HYDRATION also contains our exclusive probiotic strain, Lactobacillus rhamnosus GUT5Y™, which contributes to digestive wellbeing.Good to know: FODMAP-friendly, vegan, non GMO, no artificial flavours, preservatives or colours, free from gluten, dairy, soy, eggs and nuts.
HOW TO USE
Mix 1 tbsp (15mL) in 150mL of water, a smoothie or your favourite drink and consume immediately. 1–2 serves per day.
For optimal results, HYDRATION should be consumed daily in chilled or room temperature beverages and can be taken with any other Beauty Chef product.Boosts are designed to amplify the benefits of your Inner Beauty Essential: GLOW or GLOW AGELESS.
Storage: Shake bottle well before each use, refrigerate after opening and use within 45 days.
This elixir is not a sole source of nutrition and should be consumed in conjunction with a nutritious diet and appropriate physical activity.

Children and Pregnant Women: Not suitable for children under 15 years of age or pregnant women. In these cases, the product should only be used under medical or dietetic supervision.
SKU: 10000-171