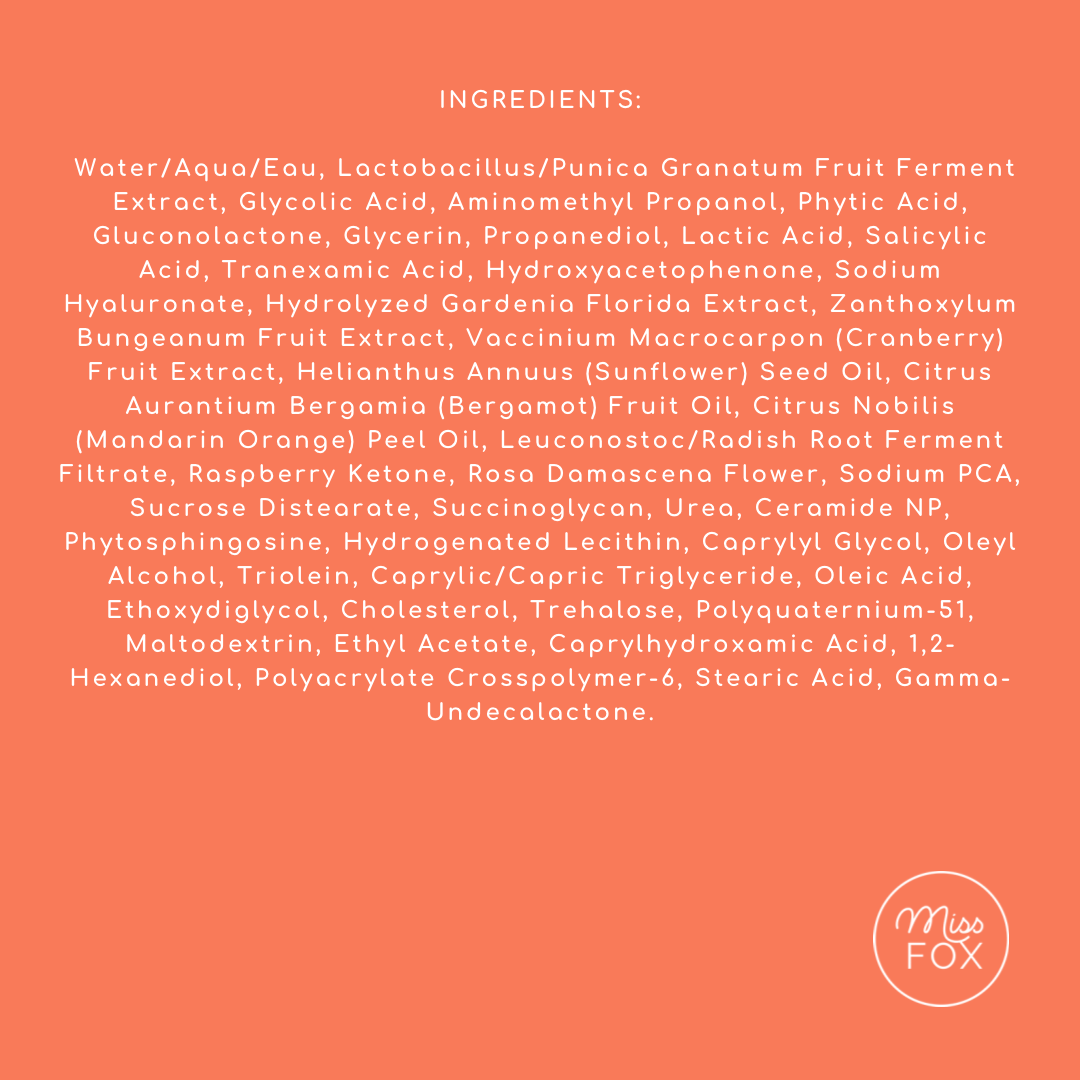 Liquid Peelfoliant
Dermalogica
$130.00
or 4 interest free payments of $32.50 with
learn more
RESURFACE, RENEW, REPEAT. Treatment room results after 1 use.

Powerful daily exfoliating peel helps to even skin tone and visibly minimise pores while hydrating to smooth the appearance of fine lines. Proven to even skin tone and minimise pores with 1 use + reduce the appearance of wrinkles in 3 weeks

10% AHA, 0.5% BHA, 4.5% PHA
10% Fruit Enzymes
5% Phytic + Trabexamic Acids

Formulated with a total of 30% acids and enzymes, Liquid Peelfoliant brings the power of a professional peel to your bathroom. AHAs and BHAs exfoliate and unclog pores; Phytic and Tranexamic acids brighten and even; and PHA + fermented Pomegranate exfoliate without stripping skin. This formula also features a nourishing lipid blend with upcycled Cranberry to leave skin looking absolutely radiant. Resurface, renew, repeat – and see transformative results in three minutes a day
BENEFITS:

• Reduces the appearance of fine lines and wrinkles
• Evens skin tone for brighter skin
• Minimises the appearance of pores

HOW TO USE:
Massage evenly onto dry, cleansed skin. Leave on for 1-3 minutes, then rinse. Begin by using every other day, noting skin's response and building up to daily use. You may experience tingling as the product activates. For daytime use, follow with a moisturizer and SPF.
warnings: Use and frequency as directed. Avoid eye contact. If irritation and redness persist, discontinue use and consult a physician. AHAs may increase your skin's sensitivity to the sun. Use a sunscreen and limit sun exposure for a week.
Q AND Q`s

Q) What is the difference between the breakout clearing liquid peel, and the new liquid peelfoliant

A) There are very different types of acids and percentages of acids used in the two products. Breakout Clearing Liquid Peel is part of our Clear Start segment which is for teen skin which is typically oily and breakout prone, the hydroxy acids used in the Breakout Clearing Liquid Peel are chosen for their ability to clear excess oil and unblock the pores-which reduces break out activity. In contrast the Liquid Peelfoliant uses acids and enzymes to address the common signs of skin ageing including brightening and evening the skin tone, minimizing pores and reducing the appearance of fine lines.

Q) What's the difference between the Dynamic Skin Retinol Serum, and the Liquid Peelfolinat, as the benefits look the same?

A) Dynamic Skin Retinol Serum and the Liquid Peelfoliant do share some of the same benefits (brightening and evening the skin tone, minimizing the appearance of pores and reducing the appearance of lines) as these are the four most common signs of skin ageing.
If you're serious about skin ageing, we would recommend Dynamic Skin Retinol Serum. This high dose wrinkle serum contains a 3.5% concentration of retinoids, including retinol and encapsulated retinol. Retinoids are considered one of the most effective ingredients in working to reverse existing signs and strengthen the skin to help delay further skin ageing. Retinoids work by stimulating skin from within, by boosting new skin cell production to increase skin density and retexturize the skin.

Alternatively, Liquid Peelfoliant, with its potent blend of acids and enzymes, works from the outside-in, applying to the surface of the skin refining and renewing the skins surface to even skin tone and minimise the appearance of pores. A key difference which may also assist with your decision as to which one would be right for you, is how to use either product. Dynamic Skin Retinol Serum is only for use at night-time, applied as a very fine layer after cleansing. No removal is necessary, simply follow with your evening moisturiser and head to bed. Liquid Peelfoliant is applied to clean, dry skin and gently massaged in for 1 – 3 minutes, then rinsed to remove, and could be used either morning or evening depending on your preference.

Regardless of which option you were to choose, we absolutely recommend finishing your morning skin care routine by applying your favourite SPF.

Q) Can I use a retinol and the Liquid Peelfoliant together?

A) We wouldn't usually recommend this as a product combination. However, if someone had very resilient skin it is a possibility, we would recommend using the Liquid Peelfoliant in the morning and the Dynamic Skin Retinol Serum at night beginning with alternate days. If this combination of products was being used it would be important to monitor your skin and reduce the frequency of the Liquid Peelfoliant if any skin sensitivity was developing.
Miss Fox Aesthetics is dedicated to maintaining the accuracy of the ingredient lists on this website. However, because ingredients are subject to change, we cannot guarantee that these lists are complete, up-to-date and/or error-free. For an accurate listing of ingredients in each product, please refer to your product packaging.

SKU: 10000-68